Thousands at immigrant rally in Des Moines PHOTOS Thousands marched to the statehouse of Thursday in support of Iowa immigrants.
Organizers said more than 2000 people came to Des Moines' Day Without Immigrants March. Hundreds of Central Iowa businesses closed their doors on Thursday in an effort to show the impact immigrants have on the community and economy.
"We work hard," Organizer Manuel Galvez said. "We are hard-working families. I hope they can understand this."
The message was meant for state lawmakers.
Marchers gathered at La Placita around 11 a.m. before walking about five blocks to the statehouse. The marchers walked shoulder-to-shoulder about three or four across, and the line stretched for blocks.
"I think that when they see our faces, when they see physically, they can understand," Galvez said. "We are going to stand and we are going to fight as much as we can."
The marchers were protesting Iowa House File 265, which deals with so-called Sanctuary Cities. Similar rallies were held across the nation, in hopes that the message of support for immigrants would reach the White House.
Marchers gathered on the statehouse steps, where cheers and chants of "Sí, se puede" rose up from the crowd. Speakers later addressed the crowd in Spanish with megaphones.
The crowd eventually dispersed, walking the five blocks back to where they started. At times, traffic was tied up by the large crowd. Organizers and Des Moines Police helped guide traffic around the march.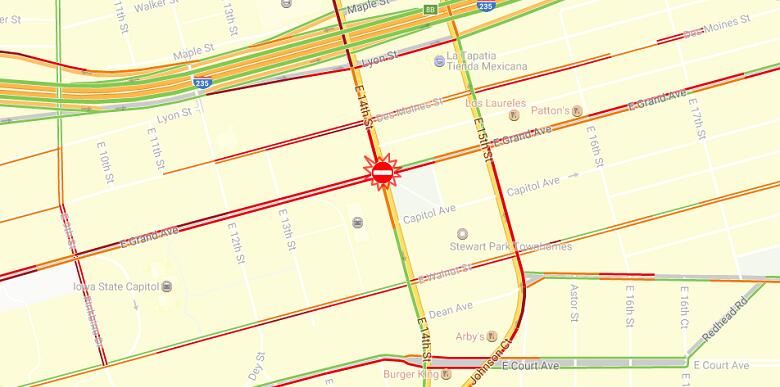 Iowa DOT 511 traffic map shows traffic at a standstill at East 14th Street at E Grand Aveue