West Des Moines fire burns 10 garages, melts nearby siding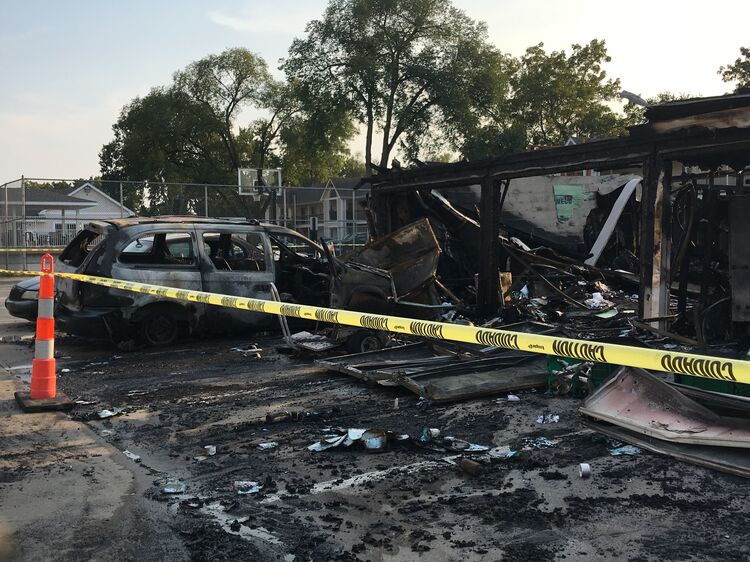 WEST DES MOINES, IA - A fire Tuesday sent flames 30 feet into the air and a black plume of smoke so thick people around the Des Moines metro area said they could see it. A row of ten garages burned, six of them destroyed, but four others were damaged, and several others down showed some smoke damage.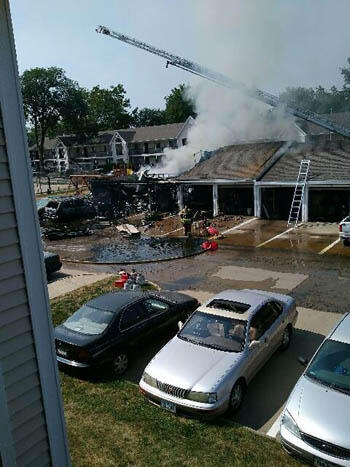 "It was huge, there was smoke, and more smoke. It was crazy." Carly McQuiston said. She lives in the Bennett Grand Woods Apartment complex and tells WHO Radio News she saw the firefighters working in the intense heat to put the fire out.
The fire was so hot it melted the siding on an apartment building 50 feet away.
"I didn't even notice that it was melted until after the fire was put out, I think because there was so much smoke we couldn't even see over here." McQuiston said. "Then I was talking to one of my other neighbors and said, wait a minute, has that always been like that?" She said it was hot outside, and the fire made the heat intense. "Those poor firefighters looked exhausted." McQuiston said. Photo by resident at right.
Fire Marshall Mike Whitsell tells WHO Radio News that three of the garage units were used as storage by apartment complex maintenance, and contained numerous chemicals, including chlorine for the nearby swimming pool. He says the fire could have been much worse had some of those chemicals burned.
Outside the shell of the garages were canisters of propane and drums of chlorine with scorch marks.
Whitsell says no one was hurt, and the cause of the fire is still being investigated.