DES MOINES, IOWA - After uncertainty and worry, not only does Iowa have a promise that the Renewable Fuel Standard will not be reduced, now it's in writing from the head of the Environmental Protection Agency, Scott Pruitt.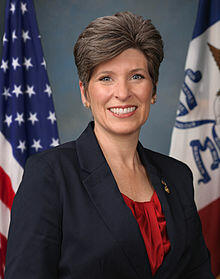 "He sent me and my colleagues a letter giving me key commitments that he will support the spirit and the letter of the RFS." Said U.S. Senator Joni Ernst of Iowa.
"This is a huge victory for our farmers and for manufacturers, and to get this assurance in writing was a key victory because now it's in writing, instead of hearsay." Ernst Said.
Photo: U.S. Senator Joni Ernst of Iowa
Iowa is a leading producer of biofuels and there was concern about a proposal to reduce the Renewable Fuel Standard.
"Specifically the Administrator committed to finalizing the renewable volume obligations rule on time, and at levels equal to or greater than the levels in the proposed ruling." Ernst Said.
The RFS is a federal program that requires transportation fuel sold in the United States to contain a minimum volume of renewable fuels.