Iowa mom accused of tying up young children PHOTOS
DES MOINES, Iowa - A woman is facing child endangerment charges after police say she tied up her three children to control them.
38 year-old Jessica Henderson faces child endangerment charges, but she denies the accusations, telling police it was actually the man who turned her in who tied up the children.
Photos show the children ages nine, five, and four bound at the hands and feet, crying.
"You know, I don't even know where you come up with this. When we talk about discipline or guidance or instruction, or whatever you want to call it, nowhere in my playbook is tying up your kids" said Des Moines Police Sergeant Paul Parizek.
Police say that a family friend, Alvin Spencer, was visiting Henderson's home in March and discovered the kids tied up. They say he took pictures and told Henderson it wasn't appropriate to bind the children.
Spencer tells police that Henderson told him it was the only way she could control the children.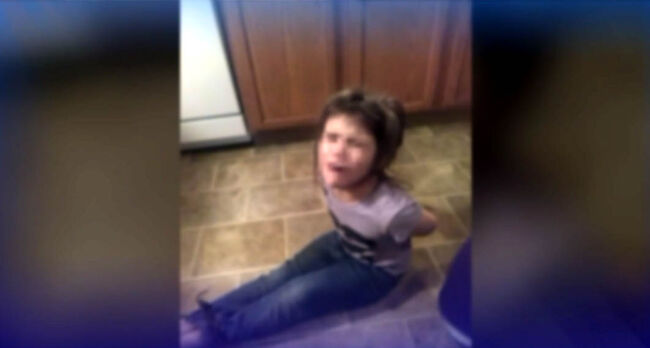 Spencer says he wanted to stay out of it, but the photos weighed on his conscience and a friend advised him to go to authorities.
"He convinced me, he said, 'I'd do it if I were you' and this is a preacher so I took his word and I went over there and I showed it to the [children's] principal" Spencer tells WHO TV.
The principal at River Woods Elementary called the Iowa Department of Human Services and Des Moines, police who opened the case on Friday August 31st.
Henderson denies that she tied her children up and says Spencer is the one who did it while she was in the bathroom.
"I had my kids playing, as a single mom, I came out to my kids screaming, he had them tied up, he was laughing, taking pictures, saying I'm going to do everything to have your kids taken away from you. I will not ever do that to my children" said Henderson.
Spencer says that is a lie.
"I know she's lying, and god knows she's lying, so I ain't got nothing to worry about. I'm not over there, I didn't disrespect them kids, I helped them" said Spencer.
Spencer does have a long criminal background with guilty pleas related to domestic abuse, but police say in this case they believe he is telling the truth.
"The only thing we would have probably asked to be done differently is that we were notified immediately, but outside of that he absolutely did the right thing, and kudos to the school for being swift with this" said Parizek.
Henderson is scheduled in court for arraignment on October 22.
Police say the children are safe, and have been removed from the mother's home.