Knee-deep flash flooding in West Branch, Iowa PHOTOS FLOOD MAPS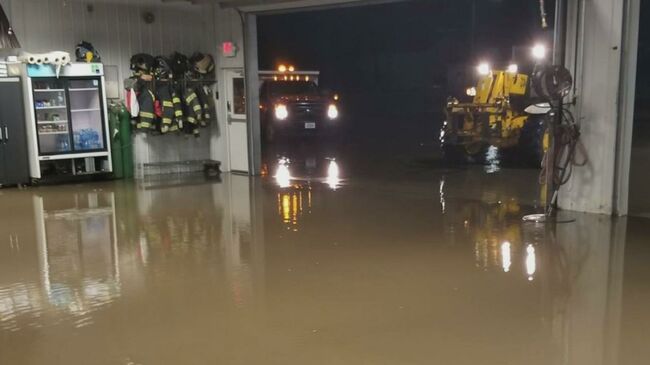 WEST BRANCH, Iowa - One eastern Iowa town is cleaning up after flooding from heavy rain this weekend.
Knee-deep muddy water flooded parts of West Branch, about 10 miles east of Iowa City, reports KCRG TV 9 in Cedar Rapids.
A Mexican restaurant was filled with standing water. Across the street from the restaurant, the West Branch Police and Fire Departments also had to deal with significant flooding.
Between recovery efforts, as the roads outside were knee deep in some areas, emergency vehicles were moved out.
"It was pretty impressive to see all the firemen and the police officers coming out and helping and to prevent what could have been terrible damage," said Chief Mike Horihan of the West Branch Police Department, which shares the building with the Fire Department.
City leaders said the significant and rapid flooding served as an important sign to invest in mitigation for the city.
"There are some things that we can do to alleviate flooding," said Roger Laughlin, Mayor of West Branch. "It takes some money and resources."
Mayor Laughlin said he and the city council have discussed and conducted studies to determine the best way to add flood mitigation, but there is no timetable on when they could see progress- that all depends on when money is available. City officials debated if it was even worth it to immediately provide recovery efforts, anticipating more rain the following days.
River Flood Warnings and Flood Watches are posted for several rivers in Central and East Central Iowa.
A Flood Warning is posted for the English River at Kalona through Thursday, with moderate flooding.
A Flood Warning is posted for the Iowa River at Iowa City for today, with minor flooding.
A Flood Watch continues for the Cedar River at Cedar Rapids until further notice.
Flood Watches are also posted for parts of the Iowa River...Cedar River...Black Hawk Creek...Des Moines River...West Fork Des Moines River...Raccoon River...North Raccoon River.
CLICK HERE for detailed Iowa flood information and maps.
CLICK HERE for USGS interactive Iowa flood gauges and current river flood levels