Rain, floods, tornadoes, then mittens for Iowans this week FLOOD MAPS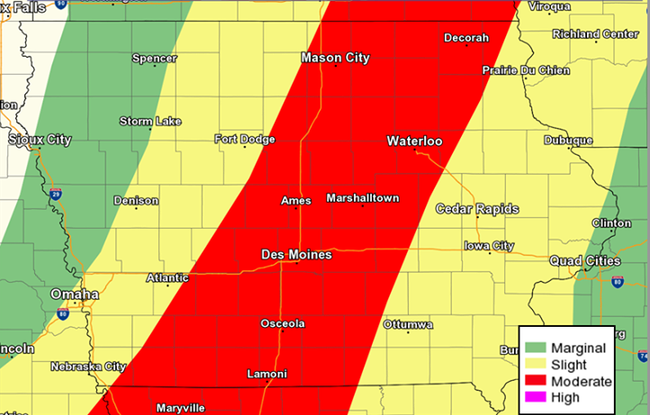 DES MOINES, Iowa - The rain's not done with us yet, and we have a flood watch across most of the state of Iowa to prove it.
"We're stuck under this big conveyor belt of rain." National Weather Service Meteorologist Jim Lee tells WHO and KASI Radio News. "We're going to be under it for the next 24 to 30 hours yet."
This is not typical October weather for Iowa. Flood potential map from National Weather Service, Des Moines. above.
"Really, this is unusual duration of heavy rain for any time of year. We're seeing unusual, if not unprecedented amounts of rainfall in Central Iowa." Lee says.
There were reports of tornadoes central Iowa Monday night. One was reported on the ground near Perry High School just before 7:00 p.m. An hour later, there were reports of a tornado touching down about 12 miles north of Ottumwa.
"Tornadoes in October are unusual, but we have had them in the past." He says. "We're sending some crews out today to survey the damage, and we do have another chance of tornadoes for later today into tonight for about the southeast half of Iowa."
CLICK HERE for detailed Iowa flood information and maps.
CLICK HERE for USGS interactive Iowa flood gauges and current river flood levels
What next? Maybe mitten weather.
Lee says a cold front is coming in, and there could be freezing overnight temperatures in northern Iowa, and there's a chance of frost in the Des Moines area.
Get specific details on the forecast from WHO Channel 13 here. Watch Meteorologist Jerriann Ritter's WHO Three Day weather forecast below.