Iowa's first medical marijuana Aliviar ready for sales PHOTOS
DES MOINES, Iowa - Iowa's first medical marijuana products are ready for December 1st sales. The products, under the brand name Aliviar will include liquid drops, pills, and a rob-on cream. Other products like a patch and suppository are still in testing.
Iowa state law limits THC content to 3-percent per dose, much lower than many other states. That means Iowa patients will need to buy more medical marijuana to get the same effect.
"We've seen as high as 30, 40 milligrams in a pill, so to make the math easy, if you have someone who needs a 100 milligram dose, like a cancer patient, they would take two (pills). Here in Iowa, you would need five." Lucas Nelson with MedPharm Iowa tells WHO Radio News.
There's an interesting hole in Iowa's medical marijuana law: there is no limit to how many pills or liquid drops a patient can have. That's up to the dispensary.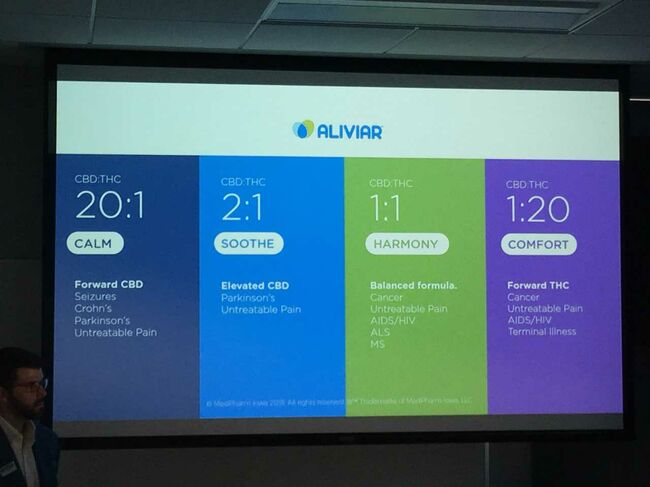 "It'll really be a discussion between the patient and the patient consultant at the dispensary as to what is recommended." Nelson says. "We'll start everyone very low. Low, low doses, and slowly build up."
Iowa's medical marijuana patients need a doctor's certification that they have a condition that qualifies, but the doctor doesn't actually prescribe the medical marijuana or dose.
How does Iowa's medical marijuana compare with the pot sold illegally on the street? Nelson compares California recreational weed with Iowa's medical marijuana.
"You're talking about 200 milligrams (of THC) in that one joint that's going to be inhaled in 15 minutes. Our products are not 200 milligrams total." Nelson tells WHO Radio News.
Meaning an entire jar of pills or bottle of liquid tincture. Nelson says the most milligrams in the most powerful pill of Iowa Medical Marijuana is just 20 milligrams (of THC), a fraction of the 200 milligrams in one joint.
Sales will begin December 1 at five licensed dispensaries in Waterloo, Davenport, Council Bluffs, Windsor Heights and Sioux City.
Cedar Rapids will be home to the second medical marijuana manufacturing facility. Iowa Relief, LLC will start sales July 1, 2019.