WH confirms US War dead returned by North Korea. Was meeting a success?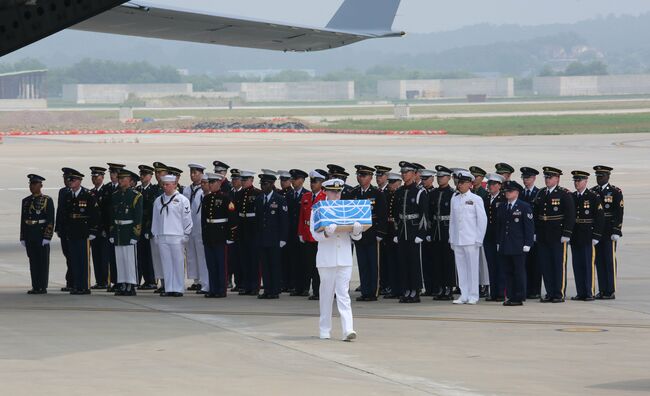 A UN honor guard carries a box containing remains believed to be from US servicemen killed during the 1950-53 Korean War, after arriving from North Korea at Osan Air Base in Pyeongtaek on July 27, 2018. - A US military aircraft carrying the remains of US Korean War dead collected in North Korea arrived in the South on July 27, the 65th anniversary of the armistice that ended the fighting. (Photo: AHN YOUNG-JOON/AFP/Getty Images)
The White House has confirmed that North Korea has returned 55 cases of remains who died in the 1950-1953 Korean War - making good on a deal struck between President Trump and NK Leader Kim Jong Un.
Today is the 65th anniversary of the armistice that ended the fighting.
There are approximately 7,700 US servicemen still listed MIA from the war and this marks a beginning.
U.S. Forces Korea commander Gen. Vincent K. Brooks, in a statement from the U.N. Command, called the retrieval mission successful. "Now, we will prepare to honor our fallen before they continue on their journey home."
Does this change your opinion of the Trump-Kim summit? Now do you think it was a success?
Take part in today's Poll...
Our polls are not scientific and are for entertainment

Simon Conway
Want to know more about Simon Conway? Get their official bio, social pages & articles on WHO Radio!
Read more