WHO Radio News Department
Iowa's largest radio news team covers the top local and national stories with experience and dedication. WHO Radio News.
Newsroom: (515) 245-8887 Email: News@WHOradio.com
Tom Noller - Anchor 5am-9am
Tom is the Morning News Anchor on the Van and Bonnie Show on WHO. He also is Anchor for 100.3 FM The Bus Morning News..
Tom's resume includes Afternoon Drive at legendary KOMO Seattle, Weather for KOMO-TV, and Morning Drive at WTIC Hartford.
Tom says: "At age 14, my dad took me along to see his friend who was working an evening shift at an FM station and when we walked through the door, I had my epiphany and knew from that moment on what I was meant to do. I was going to be a broadcast engineer! The qualification is one must be good at math and my abilities in that subject were, and are, equivalent to what a hen knows.
When I did get my first job in radio I was the Chief Engineer's helper and I remember his words to this day: "Kid, you better find another way to make a living." Back then I was making a dollar an hour and now, forty plus years later, I'm worth ten times that. Seriously, I'm honored to be working for the station on which my dad sang many years ago on the Barn Dance Show."
Tom and his wife Jannelle have three grown children and seven grandchildren, including quadruplets born in early 2016!
Tom Noller is a Methodist Hospital volunteer. He enjoys playing guitar, gardening, and restoring vintage cars in his spare time.
Wendy Wilde - Anchor 9:30am-1:30pm
News Director
Wendy is WHO Radio News Director and Midday Anchor.
Her 38-year radio career includes top-rated radio stations and shows in Minneapolis, Milwaukee, Dayton, Baton Rouge, and Chicago.
She has been a Radio Program Director, Music Director, Copy and Production Director, Talk Show Host, News Anchor/Reporter and News Director. Wendy has won numerous national, regional, and local news awards, including five Best Newscast Murrow Awards in the highly competitive Region 4.
Wendy has a BA in Communications from the University of Minnesota; studied Pre-Medicine at the University of Dayton; studied Marketing and Marketing Research at the Carlson School of Management; and holds a Project Management Certification.
In Minneapolis Wendy and her husband, Michael founded and ran a 501(c)3 nonprofit teen center for more than six years. They also founded a start up niche company making custom computers for senior citizens with sales across the U.S.
The couple has three grown children.
In her free time Wendy enjoys figure roller skating, bicycling, paddle boarding, gardening, cooking.
Sue Danielson - Anchor 2:00pm-6:30pm
Assistant News Director
Sue is Assistant News Director and Afternoon anchor.
She produces the weekly WHO Focus Public Affairs Show that airs Sundays at 6:00 a.m.
Sue Danielson has been a part of the WHO-Radio staff for nearly three decades serving in a variety of capacities in the news and programming departments.
A general assignment reporter and newscast anchor, Sue has won state, regional, and national broadcast news awards for her coverage of major stories, from severe and breaking news, to crime, politics, features, including Iowa State Fair reports.
Sue and her husband Darwin reside in Urbandale. They have two children.
She says enjoys hearing from and meeting with WHO-Radio listeners and hearing their stories.
Gary Barrett - Capitol Reporter and Anchor 7pm - 12am
Gary Barrett brings more than 40 years of experience to Reporting and Anchoring at WHO.
Gary is also Morning Drive Anchor for Davenport, Iowa Newsradio WOC.
Over the year, Gary Barrett was morning News Anchor and Statehouse Reporter in both Des Moines and Cedar Rapids, and then ran the nation's first Internet radio station dealing with politics in Davenport.
Gary was Statehouse Reporter for WHO Radio News in the mid 1990's, and returned as Afternoon Anchor in 2007, before stepping up to provide his experienced reporting on the Iowa State Capitol again in 2017.
Gary says high points in his career include covering every major Presidential campaign in Iowa since Ronald Reagan; live coverage of the 1993 floods in Des Moines; and either participating in or moderating candidate debates on WHO Radio and TV.
Steven Anthony - Anchor 1am-4am
Steven Anthony is an Iowa News Correspondent for 24/7 News, the iHeartMedia national news service. He came to WHO in September 2015 after graduating from the University of Missouri with a Degree in Journalism.
Steven anchors overnight news from 1 to 4 a.m., helping to expand our local news coverage and keeping listeners informed about national and international events.
While in college, Steven covered the Missouri Legislature for two years with Missouri Digital News, which served Newsradio 1120 KMOX in St. Louis and other stations/newspapers around the state.
Steven was born in southern California and raised in Dallas. Steven is a huge Dallas sports fan and can usually be found watching a game. Steven loves to travel and that includes a goal to visit every ballpark in Major League Baseball.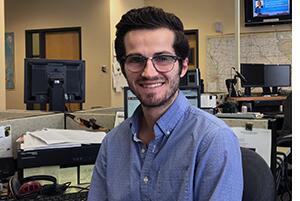 Brock Wilson - Iowa News Correspondent
Brock Wilson is a News Correspondent for 24/7 News reporting Iowa stories nationwide from the WHO Radio Newsroom.
Brock has a Broadcasting Degree from Evangel University. While there, he was a News Anchor of the school's Sports Update show, and was Play-by-Play Announcer and Sports Producer/Director for Evangel football, basketball, and baseball.
Brock was also Play-by-Play Announcer for a Springfield, Missouri high school football team and the Heart of America Athletic.
Brock Wilson is from Granite City, Illinois, but says he loves St. Louis sports, especially the Cardinals and the Blues. He enjoys both playing and watching sports, and is competitive in everything he does.
Brock plays multiple instruments and is a country music fan.
Saturdays and Sundays
The News Department staff rotate weekend shifts, expanding WHO Radio local news coverage to Saturdays and Sundays.