Excessive Heat Warning Nebraska Iowa Illinois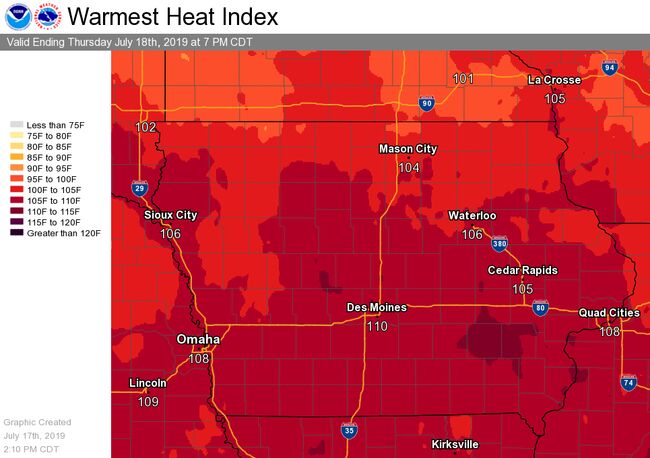 The Nebraska to Iowa to Illinois region is bracing for several days of near 100 degree high temperatures, and Heat Indexes that can be life threatening.
Much of the region is under an Excessive Heat Warning into Saturday.
An Excessive Heat Warning means that Heat Index values are expected to reach or exceed 110°F* and not fall below 75°F* for at least a 48 hour period.
People are urged to avoid outdoor activities of any kind during the warmest times of the day. Drink plenty of water and take frequent breaks if you must be outside. Stay indoors in an air conditioned building as much as possible. Check on elderly family members if they are living alone and watch to be sure children don't become overheated playing outdoors.
Several dogs have died in Western Nebraska because of the excessive heat, according to the Nebraska Humane Society. In four cases, investigators say the dogs were left outdoors with no shade and no water. All four dog owners have been issued criminal citations.
Information from National Weather Service offices in Omaha, Nebraska; Des Moines, Iowa; and Davenport, Iowa.