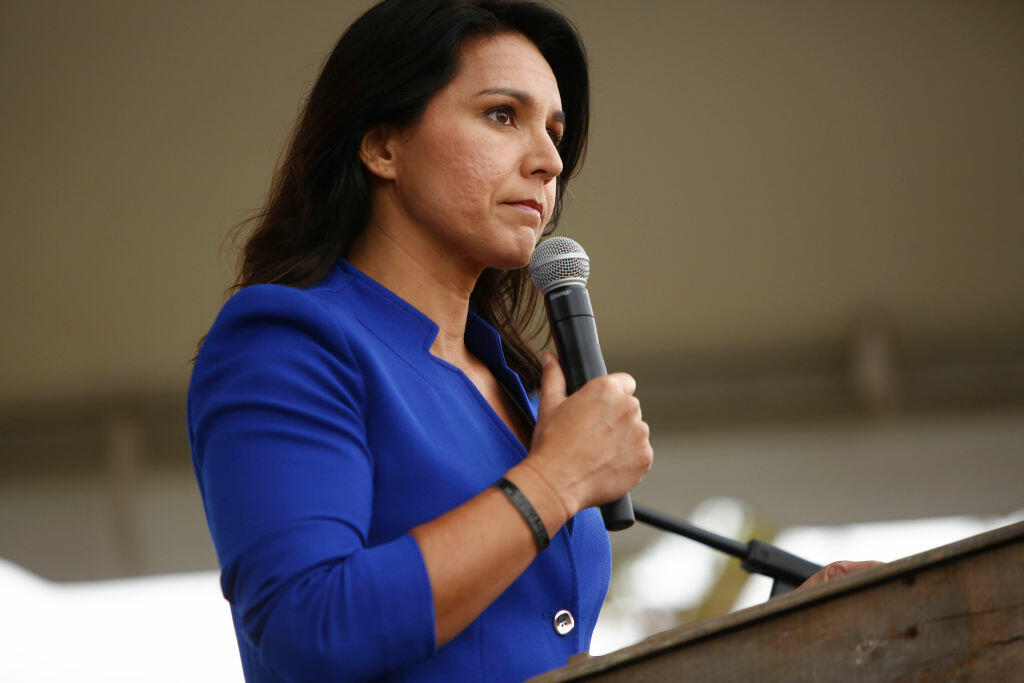 DES MOINES, Iowa - Democratic presidential candidate Tulsi Gabbard has taken time while campaigning in Iowa to lash back at suggestions by Hillary Clinton.
In a podcast released Friday, Clinton implied that Russia was backing Gabbard for president and that Republicans were "grooming" her as a third-party candidate.
Gabbard told NBC News Friday night in Iowa that Clinton was calling her a traitor to the nation and a foreign agent for opposing regime change wars. "She is doing this because it's very clear to her that she knows she can't control me, that if I am elected president that she will not be able to come in and try to influence or manipulate me or the policies that I will lead forward for our country," Gabbard told NBC News.
As a Democratic congresswoman from Hawaii, Gabbard is an active service member who is running for president partly on an antiwar campaign. She has also at times stressed her disagreement with some Democratic Party policies, notably on abortion.
She told NBC News Friday night in Iowa that she wouldn't run as a third party candidates. "I will not run as a third party candidate or as an independent," Gabbard said. "I'm a Democrat. I am running for the Democratic nomination. And as the Democratic nominee, I will lead our party away from this corrupt, war mongering establishment and return the Democratic Party to be of, by and for the people."
Clinton appeared on a podcast called "Campaign HQ", which is hosted by former President Obama aide Davide Plouffe. "I think they've got their eye on somebody who is currently in the Democratic primary and are grooming her to be the third-party candidate," Clinton said on the podcast.. "She's the favorite of the Russians."
Clinton did not mention Gabbard by name in the interview, but a spokesperson confirmed the connection later.
Gabbard has been mentioned numerous times by the Kremlin supported news agency RT. She has also been praised at times by some conservatives.
Gabbard took to twitter earlier Friday to respond to Clinton's accusations.
Great! Thank you @HillaryClinton. You, the queen of warmongers, embodiment of corruption, and personification of the rot that has sickened the Democratic Party for so long, have finally come out from behind the curtain. From the day I announced my candidacy, there has been a ...

— Tulsi Gabbard (@TulsiGabbard) October 18, 2019
... powerful allies in the corporate media and war machine, afraid of the threat I pose.

It's now clear that this primary is between you and me. Don't cowardly hide behind your proxies. Join the race directly.

— Tulsi Gabbard (@TulsiGabbard) October 18, 2019