A Military man and his dog...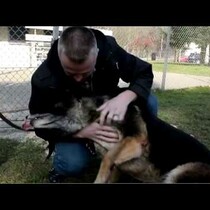 Posted March 17th, 2014 @ 12:25pm
Meet Robbie! He's the furry one with four legs! The two legged one is Retired Tech Sergeant David Simpson was forced to leave his job as an Air Force M.P. for medical reasons. He'd been Robbie's handler for four years and then was forced to say goodbye.
But less than a year later, he heard that his partner was also retiring and so he spent $2,000 of his own money to fly to Germany to go get him!
Robbie is now living back with David and his family including the three young kids.
This made my day!
H/T My Fox Tampa Bay