LATEST Carroll tornado confirmed, more Iowa storm damage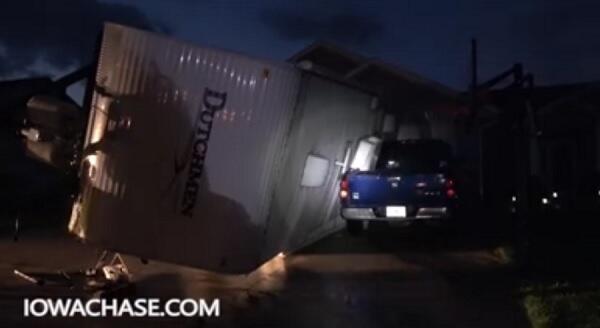 A National Weather Service investigator confirms a tornado west of Des Moines after storms blasted through Iowa Wednesday night.
The tornado touched town two miles southeast of Carroll, where the wind speeds were around 70 miles per hour. The twister tore off much of the roof on a machine shed.
"We generally look at buildings and structures, and then determine the wind speed and from that we can determine the rating of any tornado that may have occurred." National Weather Service Meteorologist Roger Vachalek tells WHO Radio News.
The possible tornado damage was reported on WHO Radio News Wednesday night by Zach Sharpe with the Iowa Storm Chasing Network. He said it looked like a tornado overturned a camper, downed power lines and tree limbs, and ripped the roof and doors off a machine shed there around 8:00 p.m. The NWS investigator agreed.
The storms began Wednesday in Kansas, Missouri, and Nebraska and were their strongest in western Iowa.
There was baseball-size hail there, but the storms unexpectedly lost power as they approached the Des Moines area.
"There were some reports of large hail. In Shelby County they reported 1 3/4 inch hail." Vachalek says.
Winds were strong as storms moved through Boone County around 10:00 p.m. Gusts up to 60 miles an hour downed small tree limbs and pelleted the area with nickel sized hail.
Power lines were reported down by the Iowa State Patrol onto Highway 69 near Jewell, north of Ames.
In Butler County, in northern Iowa, at least eight trees were reported down and a roof was partially torn off a building.