Southern Iowa boil order to be in place all week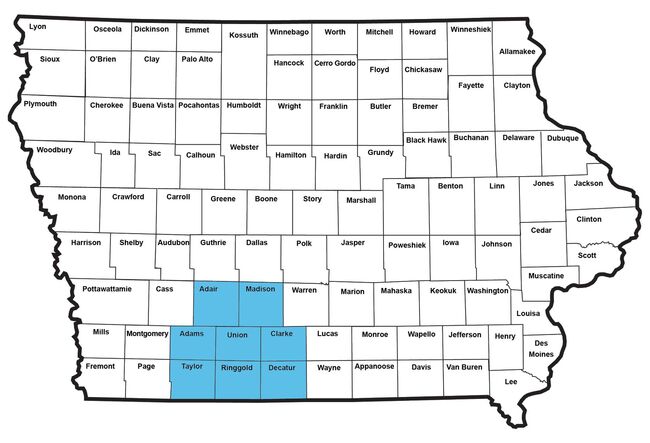 CRESTON, Iowa- A boil order for part of southern Iowa will be in place, likely through next weekend. The Southern Iowa Rural Water Association says they need to install new filtration membranes, that are coming from Canada. They hope to have the membranes in place by Saturday or Sunday. The advisory will be lifted, once tests show the water is okay. This boil order impacts an estimated 48-thousand people in eight counties, Adair, Adams, Clarke, Decatur, Madison, Ringgold, Taylor, and Union Counties.
The Southern Iowa Rural Water Association issued an updated statement Monday.
It takes two days to get EPA approval to bring the new membranes from Canada into the US, approval is expected by Tuesday. The truck will then leave Canada, and arrive in Creston by Friday morning.
A second set of membranes is scheduled to arrive in Canada tomorrow, Tuesday, June 6, and is expected to arrive 24 hours after the first set. Both sets of membranes must be installed before crews can produce the needed water for the City of Creston and SIRWA.
SIRWA says it's hoped the new membranes tranes will be online and producing water sometime on Saturday or early Sunday Morning.
Both CCWW and SIRWA will then begin the flushing process to change out the water In the distribution systems. Once testing finds the water is okay, the advisory will be lifted.
SIRWA is asking that as cities get removed from the "Drinking Water Advisory" customers be considerate and only use necessary water so that all extra water can be used to flush and get water to the remaining cities who may still be under the "Drinking Water Advisory".
That means no lawn watering, car washing or unnecessary water usage be preformed until all customers have been removed from the "Drinking Water Advisory".
Dan McIntosh of the Creston Waterworks tells WHO Radio the boil order will likely be lifted sometime next week, but it will depend on where you are located. He says Creston will be first. He says they're encouraging people not to drink the water until they give the "all clear."