Flash Flood Watch central & ea central Iowa more heavy rain coming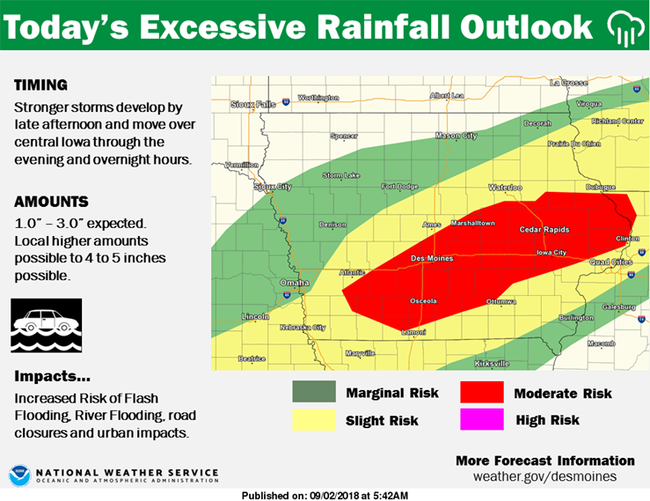 DES MOINES, Iowa - A Flash Flood Watch is posted for most of central and east central Iowa through Monday afternoon.
The Flash Flood Watch runs from near Atlantic in west central Iowa, through the Des Moines metro area, but just south of the City of Ames, east through Marshalltown, through Cedar Rapids and almost to Dubuque.
The southern end of the Flash Flood Watch includes Lamoni in far south central Iowa, east near Ottumwa, through Iowa City, and north of the Quad Cities area to Clinton, on the Iowa border with Illinois.
More storms with heavy rain are expected later today and overnight and could cause flash flooding. The national weather service says it takes only a few inches over a road to sweep away a car, or a person into rushing water.
Another one to three inches of rain is possible with the storms, and locally heavy rain could reach four or five inches.
An Areal Flood Warning is also in effect for much of the same area, with the possibility of rising water in low lying areas, creeks, and streams.
Iowa State cancelled it's season opener Saturday because of severe weather in the Ames area. Both the Cyclones and South Dakota State post an 0 and 0 record into week 2 of the college football season.
In Iowa City a break between storms allowed the Hawkeyes to win their season opener Saturday 33-7 over Northern Illinois.