Iowa Midterm Election 2018 RESULTS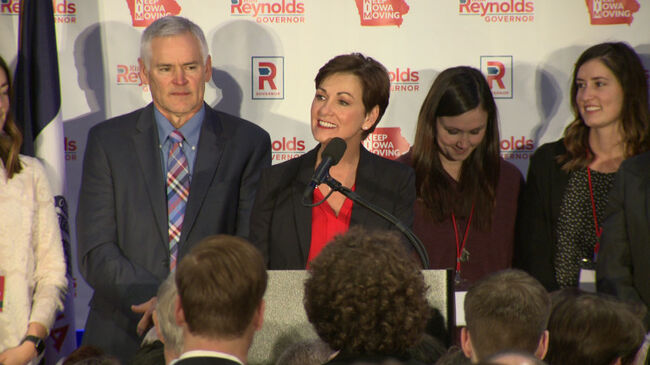 DES MOINES, Iowa - There were some big changes after the Midterm Election in Iowa, but not total change.
Republicans keep control of the Iowa State Legislature.
Democrats gained 5 seats in the Iowa House, but Republicans keep the majority.
Republicans gained 3 seats in the Iowa Senate.
Iowans voted to keep the state's first female governor, Republican Kim Reynolds
In other statewide offices:
Democrat Rob Sand is Iowa's new state auditor, defeating Republican incumbent Mary Mosiman with nearly 51 percent.
Republican Mike Naig is the Iowa Secretary of Agriculture
Democrat Mike Fitzgerald is reelected Iowa State Treasurer
Democrat Tom Miller is reelected as Iowa state Attorney General
Deidre Dejear fell short in her attempt to become the first African-American woman to win a statewide office in Iowa. She was defeated by incumbent Republican Paul Pate in the race for Iowa Secretary of State.
Iowans helped to change the balance of power in Washington, D.C.
Democrats are taking control of the U.S. House, picking up at least 27 congressional seats including two from Iowa.
Cindy Axne defeated Congressman David Young in CD-3 representing the Des Moines metro area and Southwest Iowa.
Democrat Abby Finkenauer is replacing Republican congressman Rod Blum in Iowa's 1st Congressional District, which includes Cedar Rapids, Marshalltown, Waterloo, and Dubuque.
Democratic Congressman Dave Loebsack is re-elected to represent Southeastern Iowa, including Iowa City, Davenport.
Steve King is now the only Republican U.S. Congressman from Iowa heading back to Washington D.C. He represents Iowa's 4th District, which includes Ames, Forth Dodge, and most of Northwestern Iowa.