Festival of Trees and Lights in Des Moines MAP INFO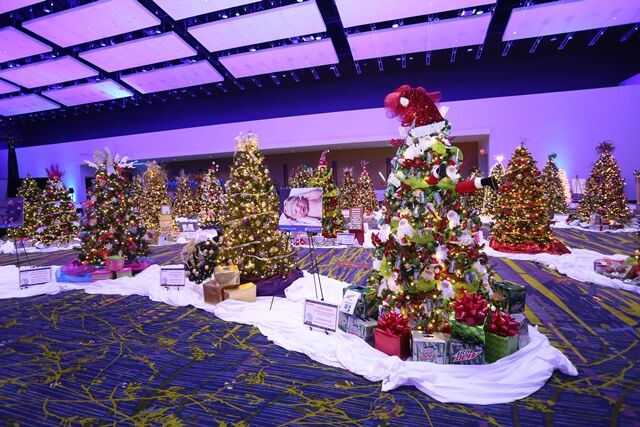 DES MOINES, Iowa – The Festival of Trees and Lights is celebrating 35 years.
The festival began in 1984 with 23 decorated trees, promoting community appreciation and volunteerism for Blank Children's Hospital.
This year there are five Harry Potter themed trees, one of them in honor of a family whose daughter was a patient at Blank Children's Hospital.
"In honor of their own daughter's cancer journey. She is cancer free now." Blank Hospital Senior Director of Development, Alissa McKinney tells WHO TV Channel 13 News.
"They always decorate a tree, underwrite that tree and give it to a family who is going through their own cancer journey." McKinney says.
The money raised from the Festival of Trees goes to Blank Children's Hospital Child Life and the Center for Advocacy & Outreach programs.
Child Life are specialists that work with children to help reduce both stress and anxiety while at the hospital.
Child Life Creative Arts Therapy Manager Julie Pedigo said the children help decorate its tree with a medical theme of everything they experience in the hospital.
"They come down here and they see all of these beautiful trees and they see that they were part of it." Pedigo says.
The Center for Advocacy & Outreach's goal is to keep children out of the hospital. The specialists create programs about safety and injury prevention and provide information about a healthy lifestyle.
Pedigo said 90 children will be remembered this year on the bereavement tree.
Each family is able to place a 'never forget-me heart' ornament and decorate it. When the festival is over, the ornament is shipped to the family.
The public is invited to attend the Festival of Trees and Lights
There are family friendly activities, and Santa is there, as well.
Wednesday November 21st

– 11:00 a.m. to 7:00 p.m.
Thursday November 22nd – 1:00 p.m. to 7:00 p.m.
Friday November 23rd

– 11:00 a.m. to 7:00 p.m.
Saturday November 24th – 11:00 a.m. 7:00 p.m.
Sunday November 25th

– 11:00 a.m. to 5:00 p.m.
Admission is $5. Children 2 and younger are free.
The Festival of Tree and Lights is located at the Veteran's Memorial Community Choice Credit Union Convention Center. It is at 833 5th Avenue, Des Moines CLICK FOR MAP