Maybe a little snow in time for Christmas FORECAST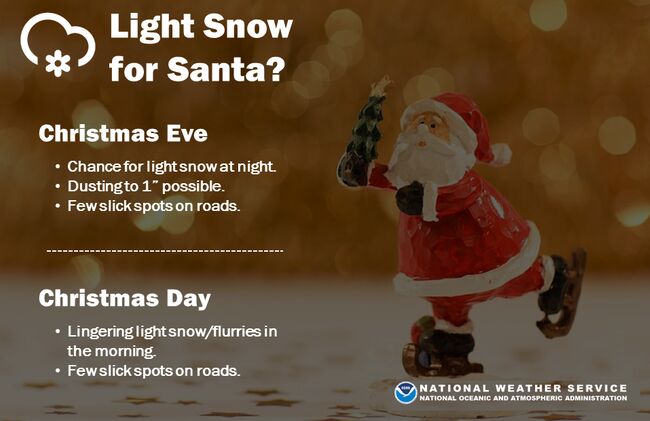 DES MOINES, Iowa - It won't be much, but there is a chance of a little snow from Christmas Eve to Christmas morning in the Des Moines region.
WHO-TV Channel 13 Meteorologist Megan Salois says it'll be sunny Sunday with breezy northwest winds. Watch Megan's video forecast below.
Christmas Eve Monday begins quietly but clouds will increase through the day. Temperatures will reach the low 40s during the early afternoon.
Then comes the chance of some snow on Christmas morning
A weak disturbance will move through late Christmas Eve night and some light snow in Central Iowa and a mix in southeast Iowa is possible after 8 PM and before 6 AM. Less than a half inch of snow is expected.
The rest of your Christmas Day will be mostly cloudy with highs returning back to 40 degrees.
A stronger storm system will start to impact our weather on Wednesday. Plenty of moisture and more warmth will lift north on Wednesday. Rain will begin late in the day on Wednesday and continue through the night with lows in the upper 30s.
The rain will continue on Thursday with highs in the upper 40s during the day. It will get colder on Friday with falling temperatures into the low 30s and 20s. A few light snow showers are possible with this return of colder air.