Summer weather forecast: Midwest may be wetter than normal MAPS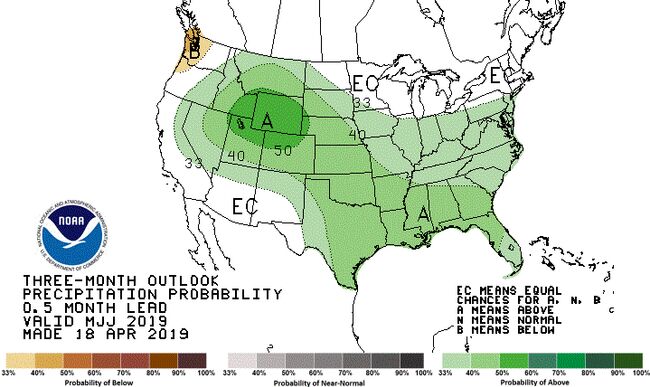 DES MOINES, Iowa - It may be wetter than normal in the Midwest this summer.
"There is a bit of a signal for above-normal precipitation chances across a lot of the Central United States." says Brooke Hagenhoff, National Weather Service Meterologist.
CLICK HERE for National Weather Service Climate Prediction Center long-range forecasts. See precipitation forecast map, above.
The 3-month outlook shows Iowa with a 33% chance of above normal rain. Nebraska has a 40% chance of above normal rain. While that's not a sure thing, it's still an elevated possibility.
State Climatologist Justin Glison says it's not certain this early. He says right now nothing suggests to him that Iowa will have very wet conditions this summer. Glison says another outlook is due at the end of April, and believes the summer outlook forecasts will become more reliable by May and June.
Most of the United States is expected to have a hotter than normal summer, but not the Midwest.
"It's kind of this big U shape across the United States, and right here across the Midwest and northern plains." Says National Service Meteorologist Brooke Hagenhoff. "North and South Dakota, Minnesota, Wisconsin, Illinois, Iowa, Nebraska, Kansas, Missouri all are in that area." She says.
The Western, Southern, and Eastern U.S. mostly expected to have above-normal temperatures in June, July, and August. Summer temperature forecast map, below.