UPDATE: Cedar Rapids, Iowa Police arrested 46-year-old Angela Beik today (Wednesday). Beik has been charged with Sexual Exploitation by a Counselor, Therapist, or School Employee. Beik has also been terminated by UnityPoint Health-St Luke's Hospital in Cedar Rapids. Beik formerly worked as a school nurse at Linn-Mar High School.
****************original story************
CEDAR RAPIDS, Iowa - A local high school nurse is being investigated after police say she admitted to having sex with a 16-year-old student.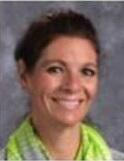 46-year-old Angela Beik has been fired by Linn-Mar Schools.
A search warrant says she was bragging about having a relationship with the teen at UnityPoint St. Luke's Hospital where she also works. Co-workers at the hospital reported Beik's comments to the Iowa Department of Human Services.
Police say the 16-year-old student denies the nurse's claims.
Photo KCRG TV Channel 9